Call Us Today
Professional Service & Repair
Service / Repair for all brands of Recovery Machines & Vacuum Pumps
Welcome to
DRM Repair Centre
Our skilled service technician can restore your pump to top performance. Servicing both residential and commercial recovery units and vacuum pumps. We can troubleshoot, fix and refurbish your pump. We also have replacement pumps, loaners and rentals available if required. Emergency service and repair on all refrigeration equipment, electronic leak detectors and weight scales. We also specialize in Pipe Freezing equipment repairs. We service all brands of vacuum pump and recovery units; Mastercool, Yellow Jacket, Robinair, RefTec, Bacharach, NRP (National Refrigration Products), Inficon, CPS, Ridgid & Rothenberger .
DRM is an Authorized dealer for:
Mastercool Inc (Automotive Air conditioning)
Navac - National HVAC Manufacturing Company
Featured Services

Full diagnostic of equipment

Pick up & delivery in GTA

Cash, Visa & Mastercard

Full report & quotations

Emergency Service / Repair

Loaner / Rental Equipment

Refurbish & Rebuild Units

60 Day Warranty on Parts
About Us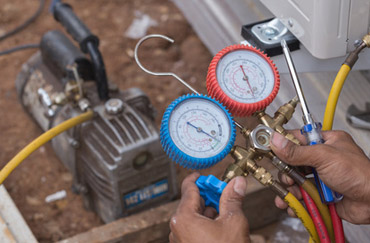 DRM Repair Centre is a FULL service company specializing in the service and repair of recovey machines and vacuum pumps for air conditioning and refrigeration. We also specialize in Pipe Freezing equipment repairs.
We are a family owned and operated company with many years of experience in the industry. Over the years we have progressed in our success with professionalism, integrity, honesty and our dedication to taking pride in our services. We guarantee our workmanship and materials. For your convenience, we offer emergency service, loaners / rentals with nominal surcharge, and pick-up and delivery in the GTA. Our staff of highly licensed and experienced technicians can rebuild pumps by using OEM service procedures, manuals, and protocols. All pumps are disassembled and inspected for component wear and contamination. All equipment is quoted for approval prior to repair. We strive to offer quality, professional and environmentally friendly service.
We've become an authorized Repair Dealer
Warranty repairs
All Mastercool equipment
Navac - National HVAC Manufacturing Company